Air emissions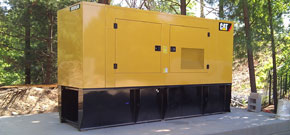 The Virginia Department of Environmental Quality (DEQ) issues air quality permits to facilities that emit regulated pollutants to ensure that these emissions do not cause harm to the public or the environment. Federal and state regulations to control air pollution are implemented through the air permitting process.
An air permit is required prior to the construction of any new stationary source or any other project that will emit regulated air pollutants above the exemption thresholds. Such projects may include an addition or replacement of an emissions unit, a modification to an existing emissions unit, or a combination of these changes.
UVA is classified as a major source of hazardous air pollutants (HAPs) which means the University has the potential to emit more than 10 tons per year (tpy) of an individual HAP or 25 tpy of all HAPs combined. As a major source, the University has been issued a Title V operating permit, which is a summary of all individual air permit requirements and any other air regulation-based requirements that apply to the University's operations.
UVA's Title V permit covers the following operations at the University:
Main Heat Plant (MHP) boilers
MHP coal and ash handling equipment
Other significant boilers
Emergency generators
Significant wood shops
Spray coating booth
Ethylene oxide sterilizers
The permit also includes a list of emissions sources classified as insignificant either based on their potential emissions or their size. Diesel storage tanks and small combustion hot water heaters are considered insignificant.
Environmental Resources oversees implementation and compliance with the conditions of the Title V permit, including collection of all required monitoring and records and on-time submission of reports.
For information on refrigerant containing equipment, please visit the regulated equipment page.