Petroleum storage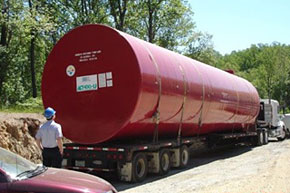 Environmental Resources is responsible for ensuring that petroleum products storage on Grounds is done in conformance with current regulations, protective of the environment, and above all, accomplished safely. Facilities Management is ultimately responsible for the installation, operation and maintenance of most tanks on Grounds.
Petroleum storage systems are regulated both by the federal government via the Environmental Protection Agency (EPA) and state government via the Virginia Department of Environmental Quality (DEQ). The university has various aboveground storage tanks (ASTs), underground storage tanks (USTs), emergency generator base tanks, transformers, hydraulic elevators and drums that are subject to these regulations.
All tank modifications, installations, removals, and in place closures require a building permit issued by UVA's Building Code Official.
Petroleum storage links